Width: 840mm (Coverage: 762mm)
Thickness: 0.8mm
Colours: Clear, Opal White, Grey, Bronze, Cream (other colours available upon request)
Naturelite's range of SolaSky™  profile polycarbonate roofing sheets feature stylish corrugated surfaces with a variety of light transmissions and heat reduction levels to suit your taste and requirements. This is a highly versatile product with excellent physical properties, suitable for many types of outdoor constructions. Many building professionals choose this product for its ability to be integrated into any building construction, durability and ease of installation. Common Applications:
Pergolas, patios, veranda covers, carports, covered outdoor entertainment areas, outdoor restaurant/cafe dining areas, courtyards, walkways, shelters, sports venues.
Main Features and Advantages
Manufactured in Australia to Australian standards.
99.9% protection from UV rays.
High impact strength - over 12 joules - 250 times higher than glass [AS4257.6-1994].
Light transmission properties certified to Australian standards.
Lightweight yet strong and easy to install.
Suitable for high wind areas.
Excellent weather and watertightness when installed properly.
Flexible and versatile - can be cold curved on site.
Low maintenance.
Fire resistant properties.
Choose from three popular, stylish profiles: Corrugated, Greca and Trimdek
Profiles match popular metal roofing sheet profiles and can easily be combined with metal roofing sheets to create areas of shade and light.
Choose from five popular, contemporary tints: Clear, Bronze, Grey, Cream, Opal (white)
10 year limited warranty against hail damage for hail stones measuring up to 25mm in diameter.
Warranty for loss of light transmission: no more than 11% in the first 15 years from the date of manufacture and 1% per year thereafter (tested in accordance with AS/NZS 4257.4-1994.
Environmental friendliness: recyclable material.
Complementary range of fixing and installation accessories available to maximise ease and efficiency of installation.
SolaSky™ Profiles and Dimensions
 Greca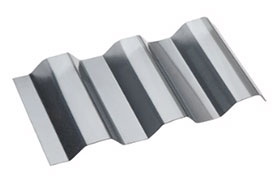 Squared profile suits many modern buildings; and matches popular metal roofing profiles.

Trimdek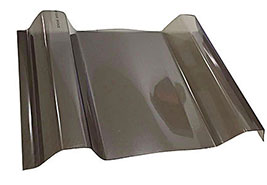 SolaSky™ Colours and Physical
 Other profiles available on request

CLEAR
Main lighting effects: maximum light transmission with the benefits of UV protection* and glare reduction.
Light Transmission: 92%
Heat Reduction**: 0%

OPAL (White)
Main lighting effects: light diffusing effect provides effective and pleasant shade cover.
Light Transmission: 56%
Heat Reduction**: 59%

CREAM
Main lighting effects: soft, enjoyable lighting with low glare.
Light Transmission: 24%
Heat Reduction**: 58%

GREY
Main lighting effects: very comfortable grey tinted lighting.
Light Transmission: 24%
Heat Reduction**: 39%

BRONZE
Main lighting effects: very pleasant bronze tinted lighting
Light Transmission: 46%
Heat Reduction**: 28%
*All SolaSky™ profile roofing sheets come standard with 99.9% UV protection coatings
**Heat reduction property based on the warming effect of the sun's rays through a profile sheet compared to 3mm of float glass.
Downloads:

SolaSky™ Product Brochure

SolaSky™ Warranty Information

Order Now
Additional information
| | |
| --- | --- |
| Length | 1.8m, 2.4m, 3m, 3.6m, 4.2m, 4.8m, 5.4m, 6m, 7.2m, 9m |
| Colours | Bronze, Clear, Grey, Opal, Primrose |
| Profiles | Corrugated, Greca, Trimdek(Monoclad) |